Elk, Mule Deer, Moose, Sheep, Antelope
| Price List | Refund Policy |
The rugged 317,874-acre Gros Ventre Wilderness Area is home to elk, moose, black bear, grizzly bear, mule deer, bighorn sheep and wolves. It receives relatively light human use due to the draw of nearby Grand Teton and Yellowstone National Parks and the Bridger Wilderness Area. The Gros Ventre Wilderness has over 20 mountain peaks that rise above 10,000 feet and Doubletop Peak, the highest point in the wilderness, towers 11,750 feet.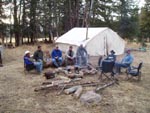 Our hunting camp is located in the Tosi Creek drainage of the Gros Ventre Wilderness. We are the only big game outfitter in the area and enjoy very little resident pressure. The camp has always enjoyed excellent trophy elk and trophy deer hunting from its establishment in the early 1900s. We hunt Elk Area 93 (limited quota) and Elk Area 82 (general). We also hunt Deer Area 162 (limited quota) and Deer Area 155/Region H (general). We hunt Moose Area 3 and 5.
This is truly wilderness hunting on horseback - where the elk are. The camp sits at 8500 feet elevation and is a two-hour horseback ride from the trailhead. There are no trucks or 4-wheelers. The wilderness boundary prevents anyone without a horse from being able to access the area. Remember, the big bulls and bucks don't hang out next to the road. Let us show you what wilderness hunting is really about - the way it was meant to be done.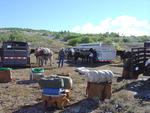 Our hunting camp consists of a large 16' x 20' canvas cook tent with propane cooking stoves and 10' x 12' canvas wall tents with propane lanterns. All hunter tents are outfitted with comfortable cots and wood stoves. Our backcountry cooking is the best you'll get anywhere! My guides and I have each been hunting and guiding in Wyoming for over 13 years. We pride ourselves in a small, but professional outfit that is interested in serious hunting for the serious hunter. Our results speak for themselves. We have an 85% success rate with bull elk. We never kill anything smaller than a 5 by 5 and most bulls are at least 6 by 6.
Our philosophy of "Quality and not Quantity" is a statement we do not take lightly. Given the choice, we wouldn't hunt anywhere else in Wyoming, and you shouldn't either.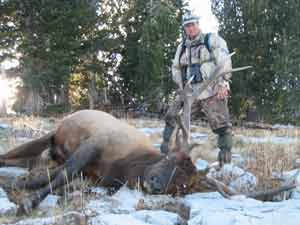 Sheep Hunting
Our sheep hunts take place in hunt areas 8 and 23 near Green River Lakes. This is an excellent hunt with personal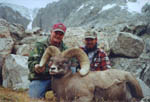 attention taken to ensure a quality trophy. These hunts are staged from a small base camp in the valley floor with horses, and it is all up hill from there. A guide, packer and hunter leave from the base camp with backpacks, dehydrated food, and the bare essentials. Most outings are for 5-day increments, and a return trip to base camp for supplies is rarely needed. Most rams taken will score in the 160-175 point range with the mature rams broomed and boasting good 15" bases. This hunt is extremely demanding on the body, but offers a very gratifying and rewarding outcome when your trophy is harvested. We offer these hunts with the help of the areas finest Sheep Guide, Greg Petersen. He has been hunting sheep in this exact location for over 25 years and knows these sheep and the area better than anyone. It won't take much research in the sheep world for the Petersen name to rise to the top, and we are extremely proud of his track record and past success that he brings to our operation. Please join us on an unforgettable hunt into the magnificent Wind River Mountains.
What is included in your Hunt
Fees include all meals, packing, care of meat to the processor, care of cape to the taxidermist, transportation to and from Jackson Hole and the trailhead, sales tax, and Federal Special Use Permit fees which are required to operate on the Bridger-Teton National Forest. Fees do not include gratuities to the Guides or Cook.
---
What our customers say
"I chose the guys at Black Diamond for my elk hunt based on the great experiences of a friend who had hunted with them. The guides put us into elk time and time again. We covered lots of territory on horseback and on foot, some of the prettiest country I've ever seen. Shooting a big bull was an amazing experience and something I'll never forget. Also unforgettable: the incredible meals and desserts our cook created over a campfire and stove; glassing 8 or 10 trophy bulls in a single meadow the night before the hunt; the stars in the Wyoming sky. These folks cared so much about making my hunt the best it could be that by the time I shot my elk I didn't celebrate with hunting guides - I celebrated with good friends. Their love of the Wyoming outdoors, hunting and elk shows in everything they do." - Marc Demers, Winter Park FL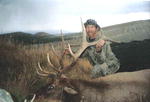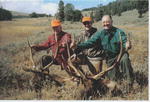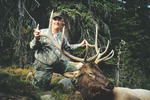 (Click on pictures for a larger view)
| | | |
| --- | --- | --- |
| Elk Hunt | Private Guide (7 Days) | $4,500 |
| Elk Hunt | 2 Hunters per Guide (7 Days) | $4,000 |
| Elk/Deer Combination | 2 Hunters per Guide (7 Days) | $5,500 |
| Deer Hunt | 2 Hunters per Guide (5 Days) | $3,500 |
| Moose Hunt | Private Guide (7 Days) | $5,000 |
| Antelope Hunt | Private Guide (5 Days) | $2,000 |
| Sheep Hunt | Private Guide (10 Days) | $7,500 |
Hunt Dates
Elk Hunt Dates
General (Area 82)
Sept 26-Oct 25
Limited Quota (Area 93)
Oct 1-Oct 31
Deer Hunt Dates
General - Region H (Area 146 and 155)
Sept 15-Oct 7
Limited Quota (Area 162)
October 1-Oct 21
Antelope Hunt Dates
Sept 10-October 31
Moose and Sheep Hunt Dates
Moose (Area 3): Sept 20-Oct 31
Moose (Area 5): Oct 1-Oct 31
Sheep Hunt Dates
Bighorn Sheep (Area 7): Sept 1-Oct 31
Bighorn Sheep (Area 8 & 23): Sept 1-Oct 15
Bighorn Sheep (Area 10): Aug 15-Oct 15
Deposit and Refund Policy
A 50% deposit is required to secure your reservation. Personal checks are acceptable and should be postdated March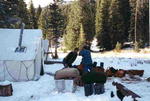 1st. Your check will not be cashed until after the draw results are made available. (Wyoming Game & Fish Department web site) Your deposit check will be returned if you are unsuccessful in the draw. Deposits will be refunded up to the day before the start of the season if a medical condition prevents you from hunting. The medical condition must be documented in writing from your physician. The refund is contingent upon you requesting and receiving a refund from the Wyoming Game & Fish Department for the purchase price of your license. Deposits are otherwise non-refundable. The balance of the hunt is due the first night in camp.
Black Diamond Outfitting LLC operates under permit by the Bridger-Teton National Forest. We are licensed by the Wyoming State Board of Outfitters and Professional Guides under Big Game License BG-350 and are insured by Markel Insurance Company. References are available upon request. Call us if you have questions about our services or date availability. Use our online information request form and we'll get back with you by phone or e-mail.
Wyoming Game & Fish Harvest Reports
Hunting Regulations-Wyoming Game & Fish Dept
Wyoming State Board of Outfitters
Maps:
Wyoming Wilderness Area Map
| | |
| --- | --- |
| Wyoming Map | |
| | |
AFRICAN SAFARI
All Species Available
We offer year-round hunting on private land in South Africa. All species are available including elephant, rhino, lion, leopard, cheetah, and all African antelope. Interested parties contact Black Diamond Outfitting for South African Outfitter information and booking inquiries Hunting for some species is conducted in Botswana and Zimbabwe. Various types of hunting are available and vary from night time hunting from a landcruiser, to game drives, to traditional spot, stalk, and walk. All animals are free range animals and not confined to a game park or preserve.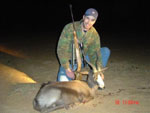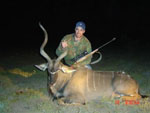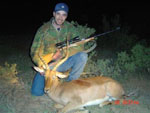 These animals were taken by Black Diamond Outfitting's owner in spring, 2004, in Camdeboo Conservancy in the Greater Karoo on the Eastern Cape of South Africa. All animals were taken with a .300 Winchester Magnum with 180 grain bullets.